To Industry and Beyond - Rotorua (13 October)
Start:

Oct 13, 2022 - 6 PM

End:

Oct 13, 2022

Venue:

RIMU ROOM, SCION,
TĪTOKORANGI DRIVE
(FORMERLY LONG MILE RD),
ROTORUA

Price:

It's free!
Event details
How do you go from a Research Lab to a new start-up company? The topic for this year's MacDiarmid Institute Regional Lecture Series is 'To Industry and Beyond', which focuses on pathways from science to industry.
In association with the Rotorua Science Society, join us at our first event of the series in Rotorua on 13th October, when Justin Hodgkiss and Shalini Divya will talk about the way that materials science spins into the hi-tech sector, as well as show careers for science students outside of the traditional university pathways. We will also talk about the role of technology in sustainability and how we are trying to encourage greater participation by young people in science and science-led careers.
Professor Justin Hodgkiss is Co-Director of the MacDiarmid Institute, Professor of Chemistry at Te Herenga Waka, Victoria University of Wellington, and Chief Scientist for the spinout company, Advemto. His research involves developing new materials for next generation solar cells and biosensors, which has led to the development and commercialisation of scientific instrumentation. His group collaborates widely with other research groups around New Zealand, and around the world, and alumni from his research group are working in New Zealand's deep-tech sector.
Dr Shalini Divya is the Co-Founder and Chief Executive Officer (CEO) of TasmanIon and is based at Te Herenga Waka, Victoria University of Wellington, where she received her PhD in Chemistry in 2020. Her discoveries in novel cathode materials for non-aqueous aluminium ion batteries are a core part of spinout company TasmanIon's intellectual property. Shalini received the KiwiNet Breakthrough Innovator Award in November 2021.
Not in Rotorua? We're also hosting this event in Nelson (3 November), Tauranga (21 November), and Hawke's Bay (28 November).
Otherwise let us know where you'd like us to visit next!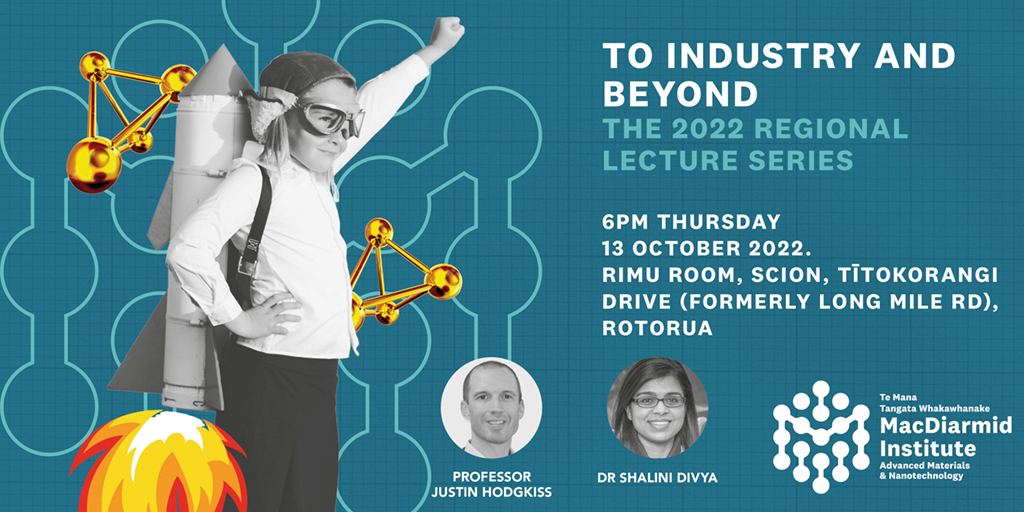 How to get to the Venue:
To get to the venue please drive ALL the way down Tītokorangi Drive (formerly Long Mile Rd). The three-storey wood framed building 'Te Whare Nui o Tuteata' will be clearly visible and parking is available to the left of the building. We will escort you from the entrance to the Rimu room.
https://www.scionresearch.com/about-us/about-scion/location-and-contact