Building better bioelectronics - Annual Report 2019
8 March, 2020
Materials science happens at the surfaces and interfaces of materials, and at the interface between disciplines. For MacDiarmid Institute Principal Investigator, Professor Jadranka Travas-Sejdic, that interface is also where some of the biggest challenges – and most exciting research opportunities – can be found.
Professor Travas-Sejdic's work at the University of Auckland focuses on what she calls the "fascinating interplay between biology and humanmade electronics". Although her research encompasses a range of topics, one unifying theme is the use of conducting polymers.
"These polymers have a remarkable combination of properties – they're electrically conductive, biocompatible, and flexible," explains Professor Travas-Sejdic.
"They're very promising for a number of health and bioelectronics applications. And we've shown that it's possible to add other functions to them, through chemical synthesis."
The functionalisation of conductive polymers is the subject of Professor Travas-Sejdic's Marsden project, carried out in collaboration with her colleague at both the University of Auckland and the MacDiarmid Institute, Professor David Barker.
"One big challenge with conducting polymers is that in general, they're brittle and hard to process," says Professor Travas-Sejdic. "So David and I have taken a biomimetic approach, using 'side-chain engineering'. This allows us to alleviate the issues of mechanical mismatch, as well as tuning the other properties of the polymers."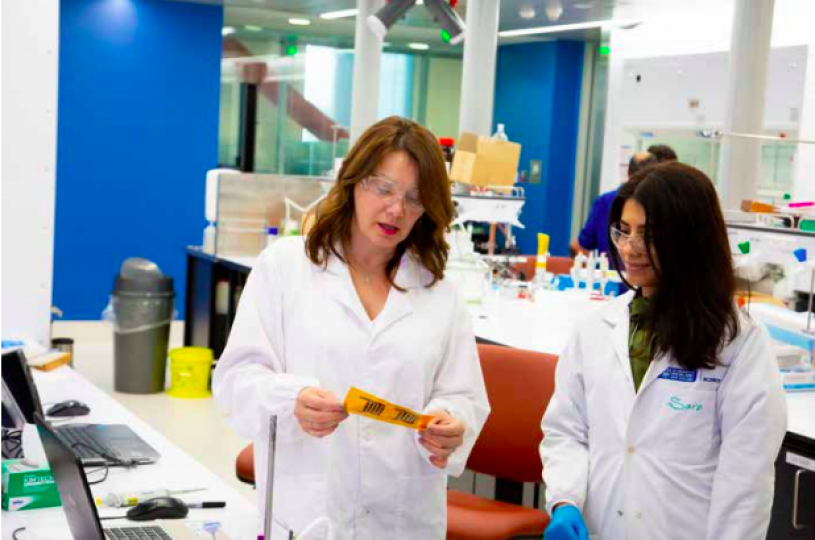 As a result, they've managed to create electrically-conductive materials that can bend, stretch and self-heal, making them suitable for use in a host of sensors and other biocompatible devices.
The same synthetic platform, which Professor Travas-Sejdic describes as looking "a bit like a bottle brush", goes beyond bioelectronics, and has been used to produce everything from photoluminescent plastics to stretchable strain sensors, Professor Travas-Sejdic is also looking to extend the work, in collaboration with MacDiarmid Institute Associate investigator Dr Viji Sarojini.
"Viji has expertise in synthesising antimicrobial peptides," she says, "so we're hoping to develop antimicrobial conductive hydrogels that could help in wound healing, or even neuron repair."