Pulling microfluidics out of a hat
31 March, 2021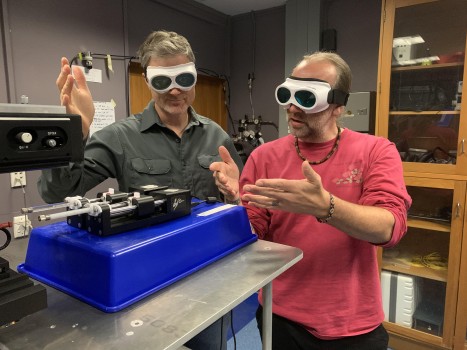 For Dr Rob Ward and MacDiarmid Institute Principal Investigator Professor Bill Williams, commercialisation is the end point of a long learning process.
Together with recent engineering graduate Reuben Osborne, the pair are cofounders of White Rabbit, which has a vision to provide plug and play scientific equipment for microworld experiments. They are initially focussing on developing easy-to-use, reliable parts for microfluidics.
Microfluidics involves manipulation of liquids using micrometer-scale channels, valves, pumps and the like. This fast-growing technological field often goes by the label 'lab-on-achip', drawing an analogy with miniaturization of electronics in the second half of last century. Microfluidics has wide-ranging potential in areas such as sensing, diagnostics, genomics and proteomics, and even efficient industrial chemistry.