Women in the MacDiarmid Institute - Annual Report 2020
1 April, 2021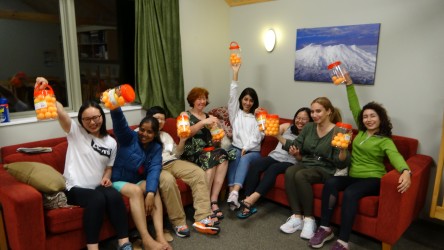 As a key part of our pivot during Covid-19, we set up a Women in MacDiarmid Institute/MESA Network.
The idea was to immediately support female and gender minority/non-binary students and early career researchers through lockdown. The Network started as a social hour once a week via Zoom during Aotearoa New Zealand's Covid Level 4 lockdown.
The Network provided a safe space for eligible members of the MacDiarmid Institute to connect via discussion of their research, experiences regarding being a gender minority in STEM and to informally present their research. The Network includes MacDiarmid Institute investigators, students, early career researchers and professional staff members. As the Network has grown, we have been able to host workshops around leadership, including strengths-based development and EQ facilitated by Associate Investigator, Dr Emilia Nowak, from Massey University. We also hosted an Institute-wide webinar with guest speaker, Catherine Fox, titled, 'Stop Fixing Women', which provided great foundational knowledge about building fairer workplaces.
In August 2020, we were fortunate enough to finally be able to host an in-person meet-up, with Network members gathering in person at each of the five universities, and streaming in via Zoom. Our week-long writing bootcamp for PhD students and postdoctoral researchers, in December 2020, was also facilitated by Dr Nowak.
Our ambition is for this Network to grow and be self-sufficient so that all female, gender minority and non-binary MacDiarmid Institute members have a safe space for support and targeted development.