MacDiarmid Institute winners at the 2020 Kiwinet Awards
20 October, 2020
Winners of the eighth annual Kiwinet Research Commercialisation Awards were announced last Thursday at a reception in Auckland. The awards, designed to celebrate the achievements of individuals, teams and organisations actively commercialising publicly funded research, featured nominations of three MacDiarmid Institute-associated researchers and were awarded to two.
Congratulations to Associate Professor Aaron Marshall (Breakthrough Innovator Finalist) for your nomination at this year's Awards.
Supreme Award and Researcher Entrepreneur Award: Professor Jim Johnston
MacDiarmid Institute Emeritus Investigator Professor Jim Johnston has been awarded the Kiwinet Supreme Award and Baldwins Researcher Entrepreneur Award for his work as a world-renowned inorganic and materials chemist and applied scientist.
Professor Johnston has either founded, or been involved with, countless new ventures and technologies through his long and outstanding research career. These include spin-out companies Wetox Limited, Noble Bond Limited and, most recently, Inhibit Coatings Limited.
During his extensive and much-awarded research career, Professor Johnston has spent the majority of it at the interface between academia and industry. He has worked closely with businesses in New Zealand and overseas to utilise applied chemistry, materials science and nanotechnology to make new high-value products and generate new chemical process technologies that can be taken to market where they can help to meet business needs and create impact.
The BNZ Supreme Award is given to the supreme entry which demonstrates overall excellence in all core areas of research commercialisation as voted by the Awards Judges. The Baldwins Researcher Entrepreneur Award is given to an entrepreneurial researcher who has made outstanding contributions to business innovation or has created innovative businesses in New Zealand through technology licencing, start-up creation or by providing expertise to support business innovation.
Breakthrough Innovator Award: Dr Eldon Tate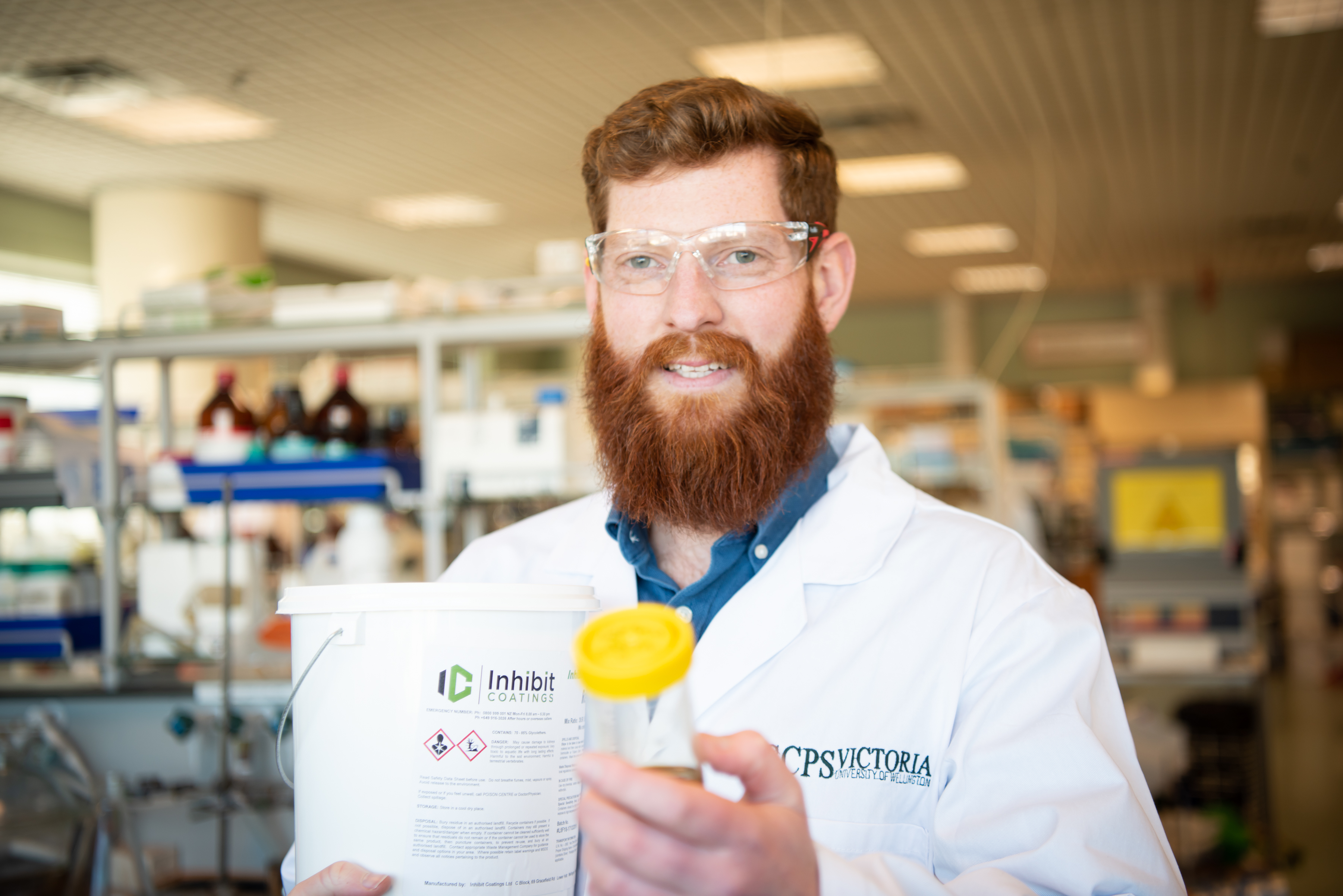 MacDiarmid Institute alumnus Dr Eldon Tate has been awarded the Kiwinet Breakthrough Innovator Award for his start-company Inhibit Coatings Limited that has developed antimicrobial coatings to keep people safe in food and healthcare industries.
Dr Tate developed the leading-edge technology during his PhD studies at Te Herenga Waka - Victoria University of Wellington, which e completed in 2016. Having seen the potential impact for his discovery from the outset, and with the encouragement of his supervisor, Professor Jim Johnston, Eldon co-founded Inhibit Coatings later in 2016. The company, initially funded through the Callaghan Innovation technology incubator scheme, has since gone on to develop a number of commercial products including floor coatings that are being trialled with excellent results in New Zealand food processing plants.
Under Eldon's leadership, Inhibit Coatings raised $1.5M follow-on capital last year from the New Zealand investment community. Eldon and the Inhibit Coatings team also continued to develop the company's product offerings and forged valuable connections with international partners. Eldon has demonstrated truly remarkable leaderships and enthusiasm for commercialising his research and growing a company that contributes to the New Zealand economy.
The Norman Barry Foundation Breakthrough Innovator Award is given to an upcoming entrepreneurial researcher who is making outstanding contributions to business innovation or is creating innovative businesses in New Zealand through technology licencing, start-up creation or by providing expertise to support business innovation.