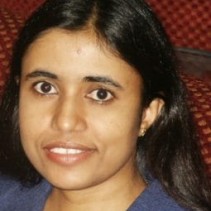 Dr Viji Sarojini
Associate Investigator
Biography
Dr Viji Sarojini is a Senior Lecturer in the School of Chemical Sciences at The University of Auckland.
Viji received her PhD degree in Chemistry from the Indian Institute of Science, Bangalore specialising in Peptide Chemistry under the supervision of Professor Padmanabhan Balaram, a pioneer in Peptide Science. This was followed by postdoctoral research in Sweden, UK and USA. She came to New Zealand in 2004, and started working on bacterial diseases of plants at Plant and Food Research, after which she joined the University of Auckland in 2006.
Research interests
Viji's research is highly interdisciplinary in nature, sits on the interface between Chemistry, Biology, Food, Material and Health Sciences, and incorporates both fundamental and applied aspects.
Viji is particularly interested in the structure and function of proteins and peptides and studies both designed and natural peptides using a range of analytical techniques which has led to the development of novel antimicrobial peptides, surface coatings and antifreeze peptides for use in frozen food.