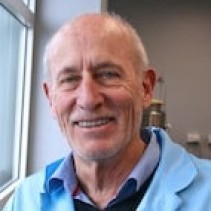 Emeritus Professor Joe Trodahl
Emeritus Investigator
Biography
Joe is a Professor Emeritus in Physics at Victoria University, after retiring from a chair in 2002. He joined Victoria University in 1971, having completed a PhD from Michigan State University and a postdoctoral fellowship at the University of British Columbia.
Current research includes the intrinsic ferromagnetic rare-earth nitride semiconductors, Raman scattering investigation of the ferroelectric phases of nanostructured perovskites, ferroelectric/ferromagnetic multiferroic structures and heat flow in sea ice.
His contribution to the MacDiarmid Institute has been massive, and is demonstrated in the careers of the many scientists he has mentored, as much as in his scientific output. Having said that, he is also a fantastic advocate for the value of long term fundamental science, as captured in a recent article on 'the most exciting thing he's ever done'.
Research interests
Growth, electronic and magnetic properties of ferromagnetic semiconductors; Raman investigation of structural phase transitions, especially nanostructured ferroelectrics Magneto-electric multiferroic devices; sea ice structure and properties.