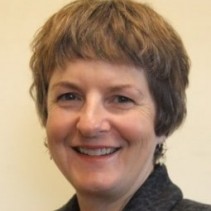 Professor Alison Downard
Emeritus Investigator
Biography
Alison Downard is Professor of Chemistry at the University of Canterbury, Fellow of the Royal Society Te Apārangi, and a Principal Investigator with the MacDiarmid Institute. She gained her PhD at the University of Otago and undertook postdoctoral research at the University of Southampton with Professor Derek Pletcher and at UNC-Chapel Hill with Professor TJ Meyer. She has an Honorary Doctorate from the Université de Rennes 1, France.
In 2014 Alison was awarded the RH Stokes medal from the Royal Australian Chemical Institute. The medal is awarded in recognition of distinguished research in the field of electrochemistry carried out mainly in Australasia.
Alison has published more than 100 refereed papers on various aspects of electrochemistry. Her current major focus is on electrochemistry for surface engineering.
She has undertaken various leadership roles including Associate Dean of Science, University of Canterbury (1999-2004) and Head of Department of Chemistry (2009-2010) and is currently Vice President of the International Society of Electrochemistry.
Research interests
Alison's research focuses on surface engineering, giving new properties to a surface while maintaining the usual properties of the bulk material.
For example, a coating can be applied to improve the biocompatibility, corrosion resistance or self-cleaning properties of a material. A surface can also be modified with small numbers of molecules that act as tethers to anchor functional species such as biomolecules, inorganic molecules or nano-objects for the smart materials of the future.
Alison's group is expert in radical-based grafting procedures that give nanoscale coatings that are extremely strongly attached to the surface.
Current research projects include attaching nanoscale organic layers to metal oxide semiconductors to tune their electronic properties, surface coating of magnesium to control of its biocorrosion rate, and surface modification of carbon materials for improved electrocatalytic performance.