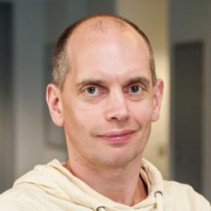 Associate Professor Ben Ruck
Principal Investigator
Biography
Ben completed a PhD at Victoria University of Wellington before undertaking postdoctoral work at in the Molecular Beam Epitaxy Laboratory of Professor Tom Tiedje at the University of British Columbia. He returned to New Zealand on a FRST Postdoctoral Fellowship working with Professor Joe Trodahl before taking a position on the academic staff at Victoria University in 2003.
Research interests
Ben's area of research interest is experimental condensed matter physics, with a particular focus on growing thin films of novel materials and determining their atomic structure and electronic properties.
This work involves collaboration with numerous students, postdocs, and academics at VUW and the MacDiarmid Institute, and at other institutions in New Zealand and around the world.
Current research projects include investigating the electronic and magnetic properties of rare-earth nitrides, including their potential use in spintronics, and investigating the electronic structure of transition metal nitrides.