Lab in a Box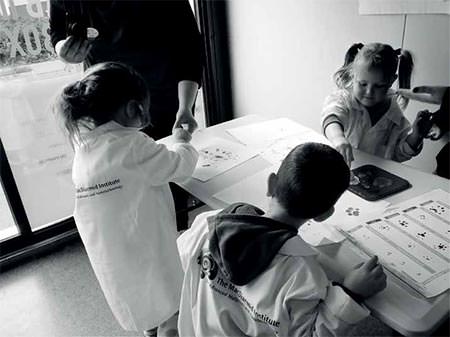 We are proud supporters of Lab-in-a-Box, an ingenious invention by Professor Peter Dearden of the University of Otago.
Lab-in-a-Box is a mobile science laboratory, built in a 20 foot shipping container. Professor Dearden developed the idea as a way to take experimental science teaching resources into rural communities and schools. The box comes fully equipped with science equipment and an educator. Researchers, university students and professors from around New Zealand also join teaching sessions as the lab tours the country.
The MacDiarmid Institute has added two Nano-Chem boxes to Lab-in-a-Box, which we developed with the House of Science. The Nano-Chem boxes introduce students to hands-on materials science and nanotech, including polymerisation, crystallisation and hydrophobic surfaces.
Lab-in-a-Box is not only for school students but also for others who live in our rural communities, especially those who are custodians of our land and water. The Lab-in-a-Box team works with farmers and local businesses and the hands-on practical teaching experience can inspire people in a way that a theoretical explanation sometimes just can't.
Watch a slidehow about Lab-in-a-Box
Annual Report pages