Career and Relevant-to-Industry Skills Programme (CRISP)
Building career skills during your research PhD at the MacDiarmid Institute
Introduction and Motivation
The Career and Relevant-to-Industry Skills Programme (CRISP) is designed for MacDiarmid Institute PhD students to explore and develop the skills which will lead to success in their future careers. The diverse, non-academic range of skills on offer is relevant to a range of employment settings, from start-ups to industrial R&D, and from public institutions to professional services companies. Many of these skills are also useful in academia, particularly for PhD students and postdoctoral researchers. We anticipate that future employers will recognise CRISP as a valuable addition to your CV.
Key points: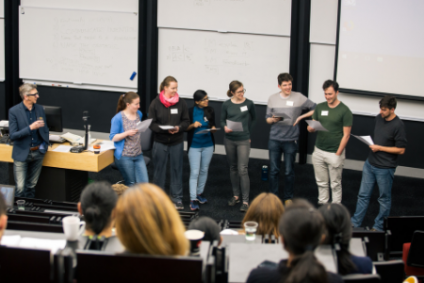 CRISP is an extracurricular programme, in parallel to your PhD research, taking up a maximum of 12 days over a 2-year period.
The programme is opt-in and modular. Topics can be selected based on your interests, career aspirations, or out of curiosity. They will be offered in a 2-year rolling cycle.
The topics on offer have been identified based on their relevance to potential employers.
High-quality, focused and stimulating training sessions will be delivered by a range of experts.
Attendance at CRISP will be funded and fully supported by the MacDiarmid Institute.
How it Works
Participants in CRISP will earn a 'badge' for participation in each opt-in module. The MacDiarmid Institute will record and attest to the badges obtained by each student. There will be approximately 15 modules on offer in total over a 2-year period, and we have set a goal of 8 badges for achievement of a full CRISP programme. There will be no formal assessment, and badges do not constitute formal qualifications.
Modules will be delivered as face-to-face themed workshops e.g. 2-3 modules may be available over a 2-day period in one location. Students are not expected to attend all available modules within a workshop, and some modules may be delivered in parallel. Each module will typically take half a day or a full day. A small amount of preparatory and follow-up material may be delivered online.
The modules offered will develop skills that are broadly relevant to many career choices. They have been selected through analysis of our alumni data, as well as feedback from a range of potential employers of materials science graduates. We have consulted with start-ups, multinational R&D intensive companies, investors, professional services companies, and government agencies.
Workshops will be interactive, allowing participants to develop an understanding of how to apply new skills to their own areas of research, or enable them to bridge between their scientific discipline and a related field.
Eligibility and selection. Any PhD student affiliated with the MacDiarmid Institute is eligible to participate. Attendance may be subject to capacity limitations. Selection for workshops will consider timeliness of the application (i.e. first-come first-served), travel and emissions logistics, and equity. Due to the rolling nature of the programme, those who miss out on any particular module will have the chance to apply for later modules, and potentially a later version of the same module.
To get involved. Familiarise yourself with the information here, keep an eye on communications from the Institute (e.g. through our weekly Update, newsletters, social media and/or MESA communications) and bookmark this webpage.

Content
You are encouraged to select 8 or more module options within a 2-year period. It does not matter when you start this 2-year period: topics will roll over on a continuing basis. Mix and match the skills in a way that supports your career aspirations, or to explore things you don't know about.
Programme scheduling will be flexible - for example, much of the information for future workshops is still to be developed at present. Obviously it is not ideal to decide on which modules to apply for when future modules remain uncertain. Our goal is to release as much information as possible to help you plan your participation, and our present planning is listed below (for further progress, see see the FAQs and more information document).
Upcoming:
Workshop 2: "Investment, Sustainability and Wellbeing"
1 and 2 February 2022
**This in-person workshop will be held in Rotorua, with Module 3 held in parallel to the MacDiarmid Institute Annual Symposium**
Students who have registered for the Symposium can apply for these modules. Only one of modules 1 and 2 can be chosen. Register your interest here
Module 1: Sustainability of products, processes and business models through advanced materials
1 February 2022
Full day workshop, exact timing TBC
Attendance at the introductory online 'taster' session on this topic from Workshop 1 is not required to apply for this module.
Sustainability of products, processes and business models is a crucial consideration for all companies today. Materials scientists are well placed to contribute to improved sustainability but are also in a position to contributing to worsening of sustainability impacts if they don't consider how materials are sourced, manufactured, distributed and disposed of at the end of a product or processes' life cycle. The Sustainable Business Network will deliver a module on some of the aspects of sustainability that will provide an understanding of the current dynamics of sustainable business practices, responsible product design and development, circular economy principles and sustainable business models (e.g. the B Corp).
Some of the aspects that will be covered:
Identifying CO2, environmental, and societal challenges and linking these to the Sustainable Development Goals.
how to plan, start and run a sustainable business, BCorp
Research commercialisation with impact (commercial route for sustainability research)
Social enterprise and other non-traditional routes to commercialising science
Sustainable Business Insights speaker:
Tori Calver (Head of Culture & Impact, Sustainable Business Network)
Tori Calver is our people person. She's passionate about promoting a culture where people are supported, celebrated and innovative ideas are allowed to flourish. Her strong corporate background and sustainable ethos immediately connected her with SBN's mission to help bring about systems change in business. Previously Tori was at Expedia where she established the NZ office and managed the strategy for the NZ
Module 2: Developing healthy habits for resilience and wellbeing in the workplace
1 February 2022, exact timing TBC
Full day workshop
Delivered by Julene Hope
This module will explore resilience and wellbeing in the workplace. The emphasis is on developing real skills and practical mechanisms to enhance confidence and enjoyment within your current workplace and in your future career. The module will address specific challenges you might face, particularly in your current environment and early in your career. Taking the first steps into a research project, or into a new career, can be challenging at the best of times. In uncertain times, there is an additional need for resilience and to adjust to new demands in the workplace.
The workshop facilitator has extensive experience in providing pragmatic tactics and tools for resilience at all career stages (see Julene's bio below). You will benefit from working through scenarios and challenging experiences with your peers to consider approaches that work for you and in the likely situations you are likely to face during your studies and early career. As a result, you will be exposed to a set of skills that help to maintain wellbeing and achieve success, both for yourself and for your work colleagues. There will also be a chance to discuss how the MacDiarmid Institute can better support its members as an institution.
Resilience and Wellbeing speaker:
Julene Hope (Bright Spot Consulting)
Julene Hope has led change in government programmes, in private business and with leaders across the health sector in both NZ and the UK. She is a Change Agent, a catalyst for better business, more supportive workplaces and stronger communities in New Zealand. She supports organisations to design and deliver change to improve service quality, enhance culture, develop leadership and capability and embrace change. As a coach, she helps people expand their thinking, understand themselves better, and unblock whatever might be holding them back. Her greatest reward is to assist others to move beyond the barriers between them and success.
Module 3: Investment Dynamics for science-based start-ups
2 February 2022, 10-3 pm (in parallel with the Symposium)
Full day workshop
Delivered by Bridgewest Ventures
Attendance at the introductory online 'taster' session on this topic from Workshop 1 is not required to apply for this module.
A substantial number of MacDiarmid alumni have gone on to start and run successful start-up companies based on scientific discoveries. Most of these start-up companies need investment support to enable them to develop their technology and enter major markets. Emerging scientists who are familiar with investment dynamics will be better prepared to start successful companies and rapidly gain the type of investor support needed to succeed. The commercialisation support networks also need talented staff to support science-based start-ups at all stages of company development.
In the US 0.45% of PhDs become professors compared to the chances of a major acquisition or "exit" by start-up company founders being 0.48%.
This interactive session on start-up investment dynamics will help students prepare for participation in commercialising scientific discoveries, whether that is through starting your own company, working for an early stage company or a role in one of the commercialisation offices across local and international Universities.
The session will include aspects such as:
Why, when and how to approach seeking investment
Finding the right investor, negotiation, due diligence, communication
Planning the raise (resource, timing, amounts, valuation, capital strategy)
Financial projections
Terms of investment, Investment Memorandum preparation
Investment Dynamics speakers:
John Robson (Executive, Bridgewest Group and General Manager, Bridgewest Ventures NZ)
Prior to moving to New Zealand in 2002, JR was a portfolio manager within a specialist macro-economic investment team at Merrill Lynch Investment Managers based in London and Geneva, and where he was directly responsible for the investment management of over US$6bn of equity and bond investments for a number of publicly traded investment funds.
Since moving to NZ, JR has held a number of senior roles covering technology, finance, and strategy including Head of Investments and Head of Business Strategy for the National Bank, and Head of Emerging Technology and Payments for ANZ. He has spent the last 12 years immersed in strategy and finance as the CFO and director of a number of software and technology start-up companies that now form part of the Bridgewest New Zealand Portfolio.
JR sits of the board of the One Percent Collective, a charity that seeks to make a difference by encouraging people to donate 1% of their income to charity, and is also a board member of the New Zealand Defence Industry Association (NZDIA).
Kate de Ridder (Program Manager, Bridgewest Ventures NZ)
Kate de Ridder is responsible for pipeline management at Bridgewest Ventures NZ LP, a Deep Tech Incubator in partnership with Callaghan Innovation. The key goal is to take science out of the labs and into global markets, creating highly skilled NZ based jobs and a more resilient NZ economy.
Prior to working for BVNZ, Kate spent 17 years' serving in the Royal New Zealand Air Force where she had a varied engineering career from managing the maintenance of aircraft flying Antarctic resupply missions, to restructuring 1100 technical trade roles, to leading a team of engineers developing the airborne mission system for surveillance and reconnaissance.
Future Workshops:
(Provisional) Workshop 3: "Communication and Other Skills for the Public Sector"
Mid-2022. Modules (TBC) may include:
Advanced communication skills
Government and the public sector
Introduction to Māori culture, society and economy
(Provisional) Workshop 4: "Start-Ups"
Late 2022, during the MacDiarmid Institute Symposium. Modules (TBC) may include:
Intellectual property
Lean business canvas
Financial management
Governance for start-ups
Early 2023: No workshop due to AMN10 conference.
(Provisional) Workshop 5: "Teams and leadership"
Mid-2023. Modules (TBC) may include:
Team dynamics and team optimisation
Decision making
Teamwork in the public sector
Late 2023: Workshops will recommence in a rolling 2-year cycle.
Downloadable as a PDF here.
For any further information, please contact contact us at MI-CRISP@vuw.ac.nz