Career and Relevant-to-Industry Skills Programme (CRISP)
Building career skills during your research PhD at the MacDiarmid Institute
The Career and Relevant-to-Industry Skills Programme (CRISP) introduces skills to support the success of MacDiarmid Institute members in their future careers – whatever that career may be. Open to Masters and PhD students and Postdocs, CRISP explores and develops a diverse range of non-academic skills that is relevant to a range of employment settings, from start-ups to industrial R&D, and from public institutions to professional services companies. Many of these skills are also useful in academia. We anticipate that future employers will recognise CRISP as a valuable addition to your CV.
Key points: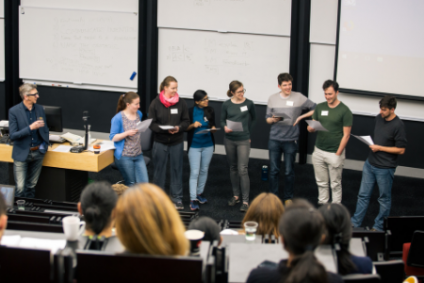 CRISP is an extracurricular programme, in parallel to your PhD research, taking up a maximum of 12 days over a 2-year period.
The programme is opt-in and modular. Topics can be selected based on your interests, career aspirations, or out of curiosity. They will be offered in a 2-year rolling cycle.
The topics on offer have been identified based on their relevance to potential employers.
High-quality, focused and stimulating training sessions will be delivered by a range of experts.
Attendance at CRISP will be funded and fully supported by the MacDiarmid Institute.
Upcoming Modules
To take place in person at the 2022 Annual Symposium in Wellington.
Creating Personal Impact in the Workplace
Delivered by professional facilitators Lisa Allen and Lucy Fookes
Wednesday 30 November, 10:00am to 5.00pm
Success in today's workplaces is not only about what you do, but also about how you do it. This starts with knowing yourself i.e. how you work at your best, the strengths you bring to a team, and awareness of potential 'red line' behaviours that might trip you up.
The first half of this module will use a confidential personalised profile, professionally generated in advance, to give you insights into your likely personal preferences in the workplace and how you might leverage these to maximise your potential. We'll experiment with team configurations to 'tease out' the joys and frustrations of working with diverse styles of interaction, information use, organisation and decision making.
The afternoon session will build on the morning's foundations by developing awareness of your own personal values and brand, and by helping you to develop effective storytelling approaches to communication. We are communicating all of the time - every moment, of every day. This session will help you to communicate with clarity and purpose, both as you apply for positions, and in your day-to-day work.
Project Management Skills for Your Future Career
Delivered by three professional New Zealand-based project managers.
Wednesday 30 November, 10:00am to 5.00pm
What connects careers in construction, pharmaceutical chemistry R&D, a sustainable materials start-up, and government policy work?
Project management is a critical component of successful projects. It includes various techniques and tools that can be readily learnt and applied to projects across many industries and careers. From large research and development projects through to construction and policy, many project management approaches are transferable skills, and are essential for confident career progression. In this workshop you'll learn some of the basic approaches, the rationale for applying project management, and a set of tools that you can start applying immediately.
Project managers are in demand: these skills can provide opportunities for careers with strong impact and earnings potential, working across varied and interesting organisations.
How it Works
Participants in CRISP will earn a 'badge' for participation in each opt-in module. The MacDiarmid Institute will record and attest to the badges obtained by each student. There will be approximately 15 modules on offer in total over a 2-year period, and we have set a goal of 8 badges for achievement of a full CRISP programme. There will be no formal assessment, and badges do not constitute formal qualifications.
Modules will be delivered as face-to-face (where possible) in clusters e.g. 2-3 modules may be available over a 2-day period in one location. Each module will typically take half a day or a full day, and some may be delivered in parallel. A small amount of preparatory and follow-up material may be delivered online.
The modules offered will develop skills that are broadly relevant to many career choices (not just commercial and industry careers). They have been selected through analysis of our alumni data, as well as feedback from a range of potential employers of materials science graduates. We have consulted with start-ups, multinational R&D intensive companies, investors, professional services companies, and government agencies.
Workshops will be interactive, allowing participants to develop an understanding of how to apply new skills to their own areas of research, or enable them to bridge between their scientific discipline and a related field.
Eligibility and selection. Any member of the Institute who is a Masters or PhD student, or a Postdoc is eligible to participate.
To get involved. Familiarise yourself with the information here, keep an eye on communications from the Institute (e.g. through our weekly Update, newsletters, social media and/or MESA communications) and bookmark this webpage.

Content
You are encouraged to select 8 or more module options within a 2-year period. It does not matter when you start this 2-year period: topics will roll over on a continuing basis. Mix and match the skills in a way that supports your career aspirations, or to explore things you don't know about.
Programme scheduling will be flexible - for example, much of the information for future workshops is still to be developed at present. Our goal is to release as much information as possible to help you plan your participation, and our present planning is listed below (for further progress, see the FAQs and more information document).
Previous Modules:
"Investment and Sustainability "
Investment Dynamics for science-based start-up
(17 March 2022), was delivered by Bridgewest Ventures
Sustainability of products, processes and business models through advanced materials
(24 March 2022), was delivered by the Sustainable Business Network
"Research Commercialization and Wellbeing"
The Friendly TTO (Technology Transfer Office)
(30 June 2022), was delivered by representatives from Technology Transfer Offices across the Institute's network
Developing Healthy Habits for Resilience and Wellbeing in the Workplace
(7 July 2022), was delivered by Julene Hope of Bright Spot Consulting
Future CRISP Sessions:
(Provisional) "Communication and Other Skills for the Public Sector"
Modules (TBC) may include:
Advanced communication skills
Government and the public sector
Introduction to Māori culture, society and economy
Early 2023: No sessions due to AMN10 Conference.
(Provisional): "Start-Ups"
Mid 2023, during the MacDiarmid Institute Symposium. Modules (TBC) may include:
Intellectual property
Lean business canvas
Financial management
Governance for start-ups
(Provisional): "Teams and leadership"
Late 2023. Modules (TBC) may include:
Team dynamics and team optimisation
Decision making
Teamwork in the public sector
2024: Sessions will recommence in a rolling 2-year cycle.
Downloadable as a PDF here.
For any further information, please contact contact us at MI-CRISP@vuw.ac.nz