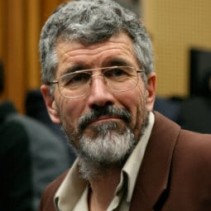 Dr Ian Brown
Emeritus Investigator
Biography
Ian Brown's research spans over thirty years in materials science encompassing glass and ceramics, minerals, nanomaterials, hydrogen materials research and titanium metallurgy. After completing his PhD in glass science at Victoria University in 1974, Ian worked for 5 years in the Pilkington Bros UK (Glassmakers) laboratories in Lancashire, learning many practical skills in glass science and technology, as well as the practicalities and politics of technology transfer.
In his role as Manager of the Advanced Materials Group at Callaghan Innovation, he is constantly seeking new materials solutions for New Zealand industry. Ian and his team have innovated new nanoscaled ceramic membranes for hydrogen gas purification, while continuing to develop high value materials processes and products in partnership with the advanced ceramics, cements and titanium manufacturing industries.
Ian currently leads two major MBIE funded programmes: 'High Performance Cements for Extreme Environments' and the 'New Zealand Titanium Technologies Platform'.