Discovery Scholarship Recipients - 2023
Georgia-Rae Jones - Piki Ake Award (Step It Up)
AUT - Auckland University of Technology
Kia ora and kia orana e te whānau
Ko Pukerua-O-Ruawhata te māunga
Ko Utuhina te awa
Ko Te Arawa te waka
Ko Tunohopu te marae
Ko Te Arawa tōku iwi
Ko Ngāti Whakaue tōku hapū
Ko Georgia-Rae Jones tōku ingoa

Like many of you, from a very young age I have always been fascinated by the natural world around me. Over the years I have grown a deep connection to the environment but more so towards Aotearoa's unique biodiversity. For this reason, I am pursuing a Bachelor of Science Majoring in Environmental Science.

I want to be a powerful force in protecting our threatened biodiversity, to improve the health of our communities and most importantly my whānau. My biggest 'why' has always been and will always be my family. I want my nieces and nephews as well as their children to have the opportunity to enjoy the treasures of the natural world, just as I did when I was a child.
As a young Māori and Pacific woman born and raised in South Auckland, I have big dreams for myself which include furthering my studies as well as writing and illustrating children's books.

I am incredibly grateful for all the opportunities that have come my way including being a recipient of the MacDiarmid Institute Scholarship. The dreams and aspirations I have for myself, my family and the natural world feel more within reach.
Daphne Latu - Piki Ake Award (Step It Up)
The University of Auckland - Waipapa Taumata Rau

Malo e lelei,

My name is Daphne Latu. I am of Tongan descent. I come from Kolomotu'a Tongatapu and
Taoa Vava'u. I am a mother to three beautiful children; Sione, 'Ema and Leata.
Currently, I am doing my Postgraduate Diploma in Science majoring in Biological Sciences
at the University of Auckland. During my final year as an undergrad I was fortunate enough
to do a summer research scholarship with Tristan de Rond. It was a great learning
opportunity for me which also spiked my interest in science research. I hope to continue on
to do my Master's next year and then my PhD the following year. My daughter Ema is on the
autism spectrum so my goal is to do research on autism and other neurodevelopmental
disorders.

I am extremely grateful to have been a recipient of this scholarship. Thank you for your
generosity which allows me to pursue my goals and hopefully make a positive contribution to
the field of science.
Chez Panapa - Te Kainga Rua Award (Second Chance Learner)
The University of Auckland - Waipapa Taumata Rau


Ko Tutamoe Toku maunga
Ko Kaihu Toku awa
Ko Riripo toku moana
Ko Mahuhu ki te rangi te waka
Ko Ahikiwi toku marae
Ko Ngati Hinga toku hapu
Ko Ngati whatua, Ngati Tuwharetoa, Ngati Pukenga, Ngati Maniapoto, Ngati Pikiao toku iwi
Tena koe! My name is Chez Panapa - I am a first-year Māori student majoring in Environmental Science at The University of Auckland. My journey towards tertiary education only began at 30 years of age. Before university, I was working a job that I had no drive, dedication or passion towards, and I felt the earth rotating beneath my feet as the office elevator doors would slide shut each morning. My decision to pursue tertiary education was not easy. I was scared and anxious that I was making a terrible mistake, and I couldn't help but feel my colleague's disbelief as I explained my plan to become a mature student. But with the support of my beautiful fiancé and the aroha of my friends and family - I understood that I was making the right decision. If you are in a similar position as I once was, go and apply right now - don't let your doubts sink in and deter you from what you truly want out of life. Kia Kaha - Aroha nui!
Tere Porter-Rawiri - Te Mātauranga Pūtaiao Award (Māori Science)
Te Herenga Waka Victoria University of Wellington
Tēnā koutou katoa
Ko Taranaki te maunga
Ko W'aitara te awa
Ko Tokomaru te waka
Ko Te Āti Awa, Taranaki, me Ngāti Mutunga ngā iwi
Ko Manukorihi te hapū
Ko Ōwae W'aitara te marae
No W'aitara ahau
Ko Tere Porter-Rawiri tōku ingoa
I have recently completed a Bachelor of Arts and Science in Indigenous Development and Genetics at the University of Otago and am currently pursuing a Master of Science degree in Ecology and Biodiversity at Te Herenga Waka - Victoria University of Wellington.
In my second year of undergrad my interest in genetics grew as I was made aware of how mātauranga Māori works alongside science in terms of whakapapa and pepeha. Living away from home allowed for self-reflection and exploration of Māori culture and society through related courses, which also broadened my perspectives on science. My research interests lie in exploring the interconnection between mātauranga Māori and science, specifically in relation to te taiao, where my thesis will focus on how mātauranga surrounding fungi can inform and enhance our understandings of restoration ecology.
After my studies I aspire to bring the new skills, knowledge, and ways of thinking I've learnt back home to my iwi in Taranaki, working in the taiao space.
I am grateful to the Discovery Scholarship Programme, for enabling me to continue exploring my interests and working towards achieving my aspirations.
Anataia van Leeuwen - Te Mātauranga Pūtaiao Award (Māori Science)
The University of Auckland - Waipapa Taumata Rau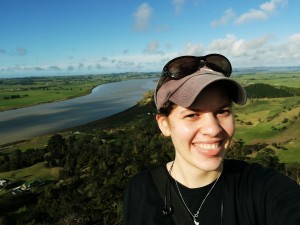 I te taha o tōku māmā
Ko Taupiri te maunga
Ko Waikato te awa me te iwi
Ko Tainui te waka
Ko Ngāti Tamaoho te hapū
Ko Mangatangi te marae
Ko Moana tōku māmā
I te taha o tōku pāpā
No Horana ia
Ko Maurice tōna ingoa

Ko Anataia tōku ingoa

I grew up in West Auckland and spent time walking through Te Wao Nui a Tiriwa / the Waitākere Ranges and at beaches like Anawhata, Piha and Karekare. These experiences shaped my connection to te taiao / the natural world and led me to studying a Bachelor of Science (Honours) majoring in Geography at Waipapa Taumata Rau / University of Auckland. Through my studies, I have gained an even deeper appreciation of te taiao and the value that mātauranga Māori brings in understanding it.

Going forward, I hope to learn more about te taiao through mātauranga Māori and demonstrate how mātauranga Māori can be used with other scientific approaches to benefit people, te taiao and the scientific field. I am immensely grateful for this scholarship as it will assist me to learn more about te taiao and to make sustainable changes for the benefit of our people and our environment.