Reconnecting hapū and whānau with their whenua
5 May, 2022
Using geological data and isotope research to develop new composite materials for building eco-papakāinga.
He papā te whatitiri, hikohiko te uira, kia kotahi ai ngā maunga. Ngā tohu me nga mahitahi ngā e ki ai I te tangata he rangatira.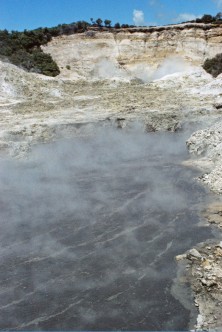 We acknowledge the land as a gateway, a journey that can develop and unite minds across many disciplines to increase Māori research capability in unlocking the potential of Māori people, knowledge and resources. Our leadership and empowerment is based on traditional values and a Te Ao Māori worldview.
MacDiarmid Institute Stakeholder Relations Partner Iwi Diane Bradshaw, from Ngāti Te Wehi, Ngāti Mahuta hapū of Waikato Tainui, and Te Uri o Hau ki Te Rarawa Iwi, is working with geologists and hapū to look at developing composite materials for building eco-papakāinga. Ms Bradshaw, who works at GNS Science at their Wairakei Research Centre in Taupō), says the project looks to the past and to the future.
"Ancient Romans used low-carbon concrete 2000 years ago using volcanic materials, and Māori mainly used pumice deposits. Integration of mātauranga a hapū and technical learning aims to investigate rocks materials and provide insights into Māori architectural and philosophical
worldviews.
"We are fortunate here in Aotearoa New Zealand to have a world-class scientific community alongside an innovative 'problem solving' culture. When we apply these together to climate action and emissions reduction plans, we bring benefits across the economy and to the whole of society."
She says those fields were the domain of the geologist, and can be used to constrain the location, quantity and quality of rock/sediment for use in construction.