The cure for climate change could be in our own backyard
4 May, 2019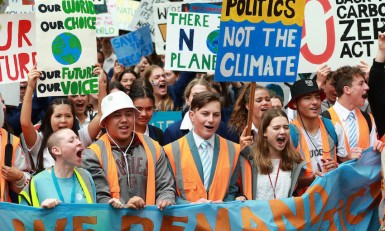 Climate treaties, sustainability goals and energy commitments are proliferating around the world. The answers to these targets must involve new materials and research in this area is happening in New Zealand, writes Dr Geoff Willmott.
Last Friday, students across the country walked out of school for the second time this year in protest against climate change inaction, joining their peers from more than a hundred countries. The current imperative for action on climate, energy and sustainability issues is clear. We must use less fossil fuel, or figure out how to capture the emissions. We want to keep our waterways clean, and to protect our coastlines from erosion and pollution. We need new, more sustainable modes of living, while still retaining a good quality of life, with hopefully pain-free transitions.
All of a sudden, microplastics, nitrate concentrations, and exploration permits are dinner-table discussion items. The Zero Carbon Bill is being debated in parliament, energy capability in Taranaki is being proactively realigned following the Just Transition summit this month, and the number of businesses joining the Climate Leaders' Coalition is nearing 100.
When a new sustainability target is proposed, it is usually recognized that it won't be reached by continuing with the status quo, and also that organizational change can only get you so far. To reach an aspirational target, technologies that do not yet exist will be required. So how do these advances actually get done?