15 Minutes Smarter
18 July, 2020
New MacDiarmid Institute podcast - 15 Minutes Smarter - asks the big important questions in materials science – What has materials science ever done for the sport of skateboarding? What does being smart mean? And is solar power really renewable if the sun is going to run out of hydrogen in 5 billion years?
Join Jono and Claire for an irreverent but insightful look at the past, present and future for materials science. What else are you going to do with those 15 minutes?
Dr. Claire Concannon
Dr. Claire Concannon is a science engagement coordinator at Otago Museum with a penchant for making podcasts.
Claire studied biochemistry before moving into science communication and worked on a museum exhibition project to showcase MacDiarmid Institute research.
She tweets infrequently at @cconcannonsci
Dr. Jonathan Falconer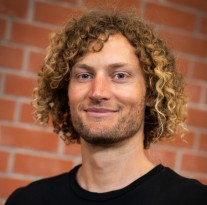 Dr. Jonathan Falconer is a teaching fellow in pharmacology at the University of Otago and moonlights as a comedian.
He has a PhD in pharmaceutical chemistry and previously worked as a postdoctoral researcher at the MacDiarmid Institute.
You can follow him on Twitter @ThatFalconer