Co-Director Justin Hodgkiss wins MWC prize for Chemical Science
25 October, 2019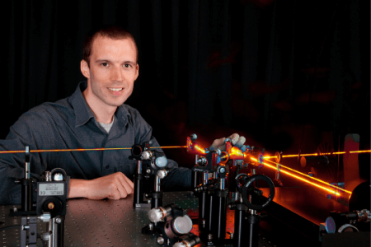 Co-Director of the MacDiarmid Institute Professor Justin Hodgkiss has been awarded the 2019 Maurice Wilkins Centre Prize for Chemical Science.
This is the premier prize of the New Zealand Institute of Chemistry (NZIC) and is awarded to a candidate based on the excellence and impact of their chemistry.
Justin Hodgkiss is a Professor in Physical Chemistry at Victoria University of Wellington and Principal Investigator in the MacDiarmid Institute, contributing to the theme of Materials for Energy Capture and Utilization. Prof Hodgkiss was also Deputy Director of the Institute from 2015 and appointed Co-Director alongside Associate Professor Nicola Gaston in 2018.
He leads the Ultrafast Laser Spectroscopy Research Group who study the effect of very short laser pulses on new photo-active materials and by observing the resulting electronic dynamics, gather information about the electronic functionality of the material.
This research is part of a world wide effort to develop new applications for printable plastic electronics, such as solar cells and biosensors. These plastic electronic devices could potentially be made for a fraction of the cost of conventional alternatives.
More information
For more information on Justin Hodgkiss' solar panel research: