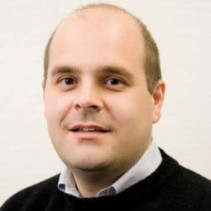 Associate Professor Nigel Lucas
Principal Investigator
Biography
Associate Professor Nigel Lucas obtained his BSc (Hons) and PhD from the Australian National University working on the synthesis and photophysical properties of organometallic materials.
Following postdoctoral research at the Max Planck Institute for Polymer Research, Germany as an Alexander von Humboldt Research Fellow, he returned to Australia in 2005 to take up an Australian Research Council Postdoctoral Fellowship at The University of Sydney. In 2008 he moved to the Department of Chemistry, University of Otago.
Research interests
Nigel's research interests span the synthesis, structure and properties of carbon-rich molecular materials, supramolecular chemistry and self-assembly, organometallic chemistry and catalysis, and crystallography.
His group has expertise in the designed synthesis of polyaromatic molecules with well-defined architectures that tend to be photoactive and can be tuned through rational modification of their structure. Flat "nanographenes" have a strong propensity for face-to-face stacking, thereby providing a robust mechanism for their assembly into ordered solids, often with high porosity.
Characterisation of the new materials is enabled through collaborations within the Institute and internationally.