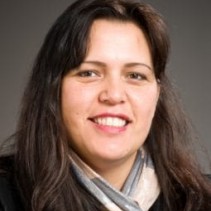 Associate Professor Pauline Harris
Principal Investigator
Biography
Pauline Harris, from Rongomaiwahine, Ngāti Rakaipaaka and Ngāti Kahungunu ki Wairoa, is an Associate Professor at Massey University.
She has a PhD in astrophysics from Canterbury University, where she investigated gamma ray bursts as possible sites for high energy neutrino production. Dr Harris has since been the Chairperson of the Society of Māori Astronomy Research and Traditions (SMART), where she applied her physics expertise to the collation and the revitalisation of Māori astronomical star lore.
Research interests
As a Principal Investigator on the Marsden funded project "Ngā Takahuringā ō te ao: The effect of climate change on traditional Māori calendars", Dr Harris has significant experience and expertise in how to build bridges between Mātauranga Māori and currently topical areas of scientific research.