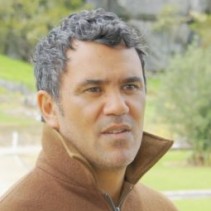 Derek Kawiti
Principal Investigator
Biography
Derek has a dual background as an academic at the Victoria University of Wellington - where he holds a Senior Lectureship, and as an architectural practitioner as director of a multidisciplinary practice - CILOARC.
Derek holds a bachelor's degree in architecture from the University of Auckland and a Masters of Architecture from the Architectural Association - Design Research Lab in London. He has more than 14 years' experience in both commercial and domestic scale architecture having worked in both New Zealand and international practice environments including London, the Caribbean and Italy.
With a background in advanced parametric design methods, he is heavily involved in generative digital modelling, digital heritage and 'low' and 'high' tech' digital fabrication with which he founded the collaborative research lab – SITUA (Site of Indigenous Technologies Understanding Alliance) with Iwi, Ngāi Tāmanuhiri - of Muriwai, Gisborne and more recently with New Zealand Māori Arts and Crafts Institute of Te Puia, Rotorua.
Derek also works as a cultural design advisor for Fletcher Building Ltd and is a trustee for the Miramar Bid (Business Investment Development). He has worked with Auckland Transport on their New Electric Rail Station Design and has advised architectural practices such as JASMAX, Warren and Mahony on various project bid cultural design strategy. In 2017 he was appointed as an Associate to the Senior Management Team at Peddle Thorp Architects, in Auckland.