Preparing for life after your PhD
29 July, 2020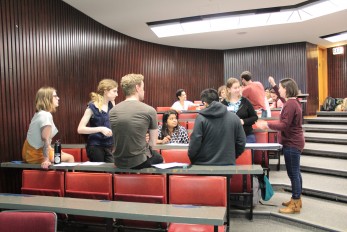 Last year our annual 'Future Leaders Programme' for our students and postdocs focused on wellbeing and communication.
This two-day workshop for our emerging scientists is designed to prepare them for life after a PhD or Postdoctoral study. Each year the programme is focused around either science communication, presentation skills and leadership or entrepreneurship.
At the request of our student body MESA, we ran for the first time a workshop developing skills to manage wellbeing.
This was facilitated by Nilima Chowdhury, a recent Psychology PhD graduate with expertise in mental illness and professional and gender identity. Within a safe environment, attendees learnt how to remain present and grounded during stressful situations, build resilience, and deal with imposter syndrome.
The second day included a scientist communicators panel as well as workshops on writing technical papers, giving talks and making graphics and posters.