"The idea is to turn this carbon capture process into a cyclic system – like a circular economy. There is the potential to combine carbon dioxide with green hydrogen to make methanol or to use electrochemistry to convert it to other compounds."
He acknowledges that there is a big challenge to scale up production of the new materials, and that new engineering systems will need to be deployed so the materials can be effective on a large scale.
"But in the meantime, carbon capture is one part of the whole equation and one of many pillars (along with tree planting, geochemical storage and changing our agricultural processes) that we need to simultaneously deploy to meet the challenge of climate change."
(You can hear Professor Telfer speak further about this on TodayFM)
Using computational modelling to help solve New Zealand's nitrate problem
Dr Anna Garden, a researcher in our Zero Carbon Programme, is designing new catalysts that could selectively convert the nitrate pollutants in water into harmless nitrogen gas.
A theoretical chemist, Dr Garden uses modelling to 'try out' different elements and shapes for the catalysts, working to reduce the toxicity of potential additives.
"We don't want to put more hazardous material into the environment in order to 'clean it up'", she says. "So experimenting theoretically can help us rule out toxic ones and helps lab researchers to focus on those that will be both most effective and least polluting."
Dr Garden experiments theoretically with nanoparticle sized catalysts, which she says are important because they use far less material than bulk catalysts, and they also come in many different shapes, which, she says, can lead to really interesting reactivity.
"The edges and corners on nanoparticle catalysts are often highly reactive. These different sites can drive reactions in different ways, either towards desired products, such as nitrogen gas, or undesired by-products."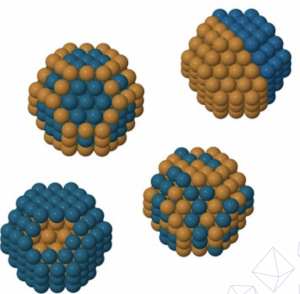 Modelling these on a computer can reveal what types of nanoparticles lead to the desired products while minimising harmful products. This would take months or years of an experimental-lab scientist's time.
"The computational approach gives a level of control over conditions that would be really hard to get experimentally. So you can investigate precise shapes and compositions of likely catalysts, and carefully understand all the variables, which can be challenging in the lab."
You can read more about Dr Garden's work here.
Cleaning up 'forever chemicals'
Reconfigurable Systems Research Programme member, Dr Jack Chen, is investigating the removal of perfluoroalkylated substances (PFAS) from contaminated water.
Perfluoroalkylated substances (PFAS) are synthetic chemicals made by joining carbon and fluorine atoms together. They possess unique properties such as the ability to repel both oil and water. Common products where PFAS are found include household furnishings, electronics, Gore-Tex jackets and the Teflon on non-stick fry pans.
The World Health Organisation defines PFAS as 'highly resistant persistent compounds used for repelling oil, grease and water and protecting the surfaces of carpets and clothing; they are also found in fire-fighting foams.' It says PFAS 'have negative consequences for human health, although these are not fully established.' Specific members of the PFAS family of compounds have been shown to be hazardous to human health, but since the PFAS family of compounds consists of thousands of compounds, progress on determining the risks of each compound has been slow.
PFAS are known as 'forever chemicals' as they don't break down in the environment. They have also been found to bioaccumulate in wildlife.
Dr Chen says it's hard to say how much is in New Zealand because there hasn't been enough research done.