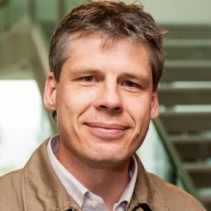 Professor Shane Telfer
Principal Investigator
Biography
Shane Telfer was born in the town of Clyde in Central Otago, New Zealand. He completed a BSc (Hons) and a PhD in Chemistry at the University of Canterbury, and is now a Professor of Chemistry at Massey University. This gradual drift northwards was punctuated by a post-doctoral odyssey that included stops in Geneva, Tokyo and Montreal.
Shane has broad interests in synthetic chemistry and molecular materials. The current focus of his research is the chemistry of metal-organic frameworks, a tremendously exciting new class of sponge-like materials. The pores in metal-organic frameworks are capable of sustainable gas storage (including carbon dioxide), separations and catalysis.
Research interests
We currently focus on metal-organic frameworks, which are crystalline 'molecular sponges' that have applications in gas storage, separations and catalysis. We are exploring new ways to design and synthesize these materials and to enhance their functional properties. We also have a keen interest in synthesizing new chromophoric compounds for applications in photovoltaics.