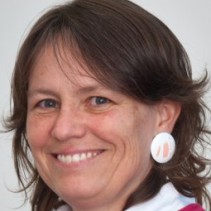 Professor Cather Simpson
Emeritus Investigator
Biography
Professor Cather Simpson earned a BA in Interdisciplinary Studies - Echols at the University of Virginia, and a PhD in Medical Sciences at the University of New Mexico School of Medicine as a Howard Hughes Predoctoral Fellow.
During her PhD studies, she became increasingly interested in understanding and exploiting the fundamental interactions of light with molecules. After a Department of Energy Distinguished Postdoctoral Fellowship at Sandia National Laboratories in Albuquerque, she joined Case Western Reserve University in 1997 to pursue this research.
In the Chemistry Department at CWRU, she earned tenure, was promoted to Associate Professor and started the Center for Chemical Dynamics. Along with her laser research, she fostered innovation in undergraduate teaching, women in science, and ethics in education and research.
In 2007, Professor Simpson joined The University of Auckland to take on a new challenge - to establish and direct the a new multi-user Photon Factory. Her appointment is held jointly in Chemistry and Physics.
The core mission of the Photon Factory is to bring the rich versatility of high-tech, short laser pulses to NZ academic and industry innovators. The facility has grown rapidly since it opened in 2010 - we now have over twenty students and employees who work on dozens of academic and commercial projects. These range from evaluating the photobehaviour of improved solar energy harvesting molecules to fabricating photomasks for microfluidic chip production. Our activities include a recent spin-off company to make a novel cell sorting chip.
Research interests
Professor Simpson's own research interests lie with the fundamental photodynamics of molecules in the condensed phase. She and her students use ultrafast laser spectroscopy to study rapidly evolving molecules as they convert light to more useful forms of energy.