MacDiarmid Institute researchers one third of KiwiNet Research Commercialisation Awards finalists
19 August, 2022
Six MacDiarmid Institute researchers are among the 18 finalists selected for the annual KiwiNet Research Commercialisation Awards. In its tenth year anniversary, the KiwiNet Awards celebrate individuals and organisations leading research commercialisation within New Zealand's universities, Crown research institutes and other research organisations. Cited as "The NZ research heroes and their innovations that are changing our lives".
Our researchers are finalists in four of the six categories:
Researcher Entrepreneur Finalists
Professor Justin Hodgkiss
Justin Hodgkiss is Co-Director of the MacDiarmid Institute and a Professor in the School of Chemical and Physical Sciences based at Te Herenga Waka - Victoria University of Wellington. A leader in deeptech research commercialisation, he fosters early-career researchers and is a highly published, highly cited researcher in ultrafast laser spectroscopy, solar energy conversion, nanotechnology and DNA aptamers. Alongside Advemto Co-Founder Dr Kai Chen, Professor Hodgkiss' team developed a unique rapid spectroscopy tool, enabling scientists to measure fast dynamics in proteins, as well as solar cells, LEDs, and photonic materials.
Associate Professor Franck Natali
Franck Natali is an Associate Professor of Physics at Te Herenga Waka - Victoria University of Wellington. A serial entrepreneur revolutionising ammonia production, he is currently an Innovator Fellow at the Breakthrough Energy Fellows Programme, founded by Bill Gates to support the development and adoption of new clean technologies to help the world achieve net-zero emissions by 2050. His company Liquium founded in 2021 will take technology he's developed to market, that provides a new low-carbon way to manufacture ammonia, which is one of the single largest chemical industrial processes present in 50% of the world's food production.

Commercial Impact Finalist
Magritek
Magritek, our very first affiliated company founded by Sir Paul Callaghan in 2004 from research teams at Te Herenga Waka - Victoria University of Wellington and Massey University is a highly successful story of commercialisation. Sir Callaghan's work included a significant contribution to the area of Nuclear Magnetic Resonance (NMR). Today the company's main product is the Spinsolve Benchtop NMR Spectrometer, which measures the chemical structure of molecules, and is the globally leading product in a rapidly growing and competitive market.
Breakthrough Innovator Finalist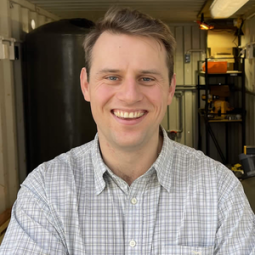 Jonathan Ring
Alumnus Jonathan Ring completed his Masters under supervision of Principal Investigator Professor Aaron Marshall at the University of Canterbury. Born out of his lab project during his Masters, Jonathan is now Founder and CEO of Zincovery, which has developed disruptive technology to recycle zinc from furnace waste. Committed to fighting climate change and protecting the environment from further pollution, one of the technology's key benefits is the ability to produce zinc with 70% less carbon emissions than existing recycling processes. Zincovery won the 2019/2020 C-Prize for its waste recycling technology.
Alex Risos
Dr Alex Risos was a Research Fellow in the Photon Factory based the the University of Auckland led by Emeritus Investigator Professor Cather Simpson and Associate Investigator Dr Michel Nieuwoudt. Dr Risos is developing a revolutionary handheld pathogen scanning technology to help ensure access to safe water via the Waicorder (TM), which is being commercialised by his spin-out company RisosEnterprises, which recently won at the 2021 Velocity $100k Challenge.
Momentum Student Entrepreneur Finalist
Muhammad Rehan
Muhammad Rehan is a PhD student in engineering with our Associate Investigator Dr Ebubekir Avci at Massey University. He is commercialising his pill-sized robot that could provide better diagnosis than that of traditional methods of gut sampling. This method of gut sampling microorganisms could not only tell one about nutrition and health, but could assist in the early diagnosis of diseases such as cancer and diabetes The pill-sized robot is equipped with a mechanism to collect samples, a chamber for storage protecting from damage to the samples, an actuator to activate the sampling process once at the target site and a battery to energise it.