Two MacDiarmid alumni shortlisted for the KiwiNet Awards
3 August, 2021
Two MacDiarmid Institute alumni are finalists in the ninth annual KiwiNet Research Commercialisation Awards. The awards are designed to celebrate impact from science through successful research commercialisation within New Zealand's universities, Crown Research Institutes and other research organisations.
The innovative research commercialisation successes include new aluminium-ion battery technology and a 'lab on a disk' testing platform. These innovations belong to the two MacDiarmid alumni that have been shortlisted as finalists for the 2021 KiwiNet Breakthrough Innovator Award. Dr Matheus Vargas of Orbis Diagnostics, and Dr Shalini Divya of TasmanIon, both of which are MacDiarmid Institute affiliated spinout companies.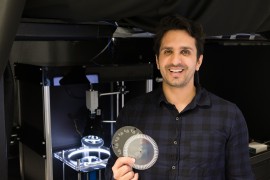 Dr Matheus Vargas completed his PhD in 2019, under supervision of Emeritus Investigator, Professor Cather Simpson. As Orbis Diagnostics' Chief Technology Officer (CTO), Matheus has been the driving force behind developing the 'lab on a disk' testing platform to test for antibodies to Covid-19, the innovation he is a Kiwinet Finalist for. The MacDiarmid Institute and the Dodd-Walls Centre have been long-term supporters of the Photon Factory and its commercial researchers such as Matheus.
Dr Shalini Divya, completed her PhD in 2020, initially under, Professor Thomas Nann, and later with MacDiarmid Institute Emeritus Investigator Professor Jim Johnston. Co-founder and Chief Technology Officer of TasmanIon, Shalini found a new cathode material with good potential application for aluminium-ion battery technology during her PhD, for which she is a Kiwinet Finalist. Shalini has worked closely with Wellington UniVentures and the MacDiarmid Institute to drive the project to the investor level.

Both finalists' scientific innovations have commercial as well as societal impact; Dr Matheus Vargas in the Covid world providing quick and accessible antibody testing; and Dr Shalini Divya, developing non-toxic rechargeable batteries for the future. Congratulations to them both and good luck for the award due to be announced 16 September in Auckland.