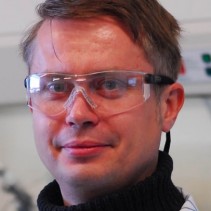 Associate Professor Vladimir Golovko
Associate Investigator
Biography
Dr Vladimir Golovko is an associate professor at the Department of Chemistry, University of Canterbury (UC), Christchurch, NZ. His research is focused on precisely fabricated nanostructured materials for applications in heterogeneous catalysis.
He joined UC from the Department of Chemistry, University of Cambridge, UK, where he did his PhD in Organometallic Chemistry and was then a Postdoctoral Research Associate with Professor B F G Johnson, FRS.
A native of Ukraine, he graduated with a Bachelor of Science Degree from the Kyiv-Mohyla Academy and a Degree of Specialist from the National Taras Shevchenko University of Kiev.
Research interests
Vladimir's research interests include synthesis of atomically precise metal clusters, metal and metal oxide nanoparticles using solution-based methodology, with focus on control over morphology and chemical structure.
Detailed characterisation of the mentioned above nanomaterials using variety of complementary techniques for better understanding of their nature.
Use of nanoparticles as catalysts in fabrication of nanostructured materials (CNTs, ZnO etc.) and chemical, photo- and electro-catalytic processes under mild, environmentally friendly conditions (solvent-free, selective transformations involving renewable chemical feedstocks).
Controlled fabrication of advanced coatings and sensors using well-defined nanoparticles as key ingredients.
Study of bio-molecule functionalized nanoparticles of metals and metal oxides and their interaction with biologically important objects.