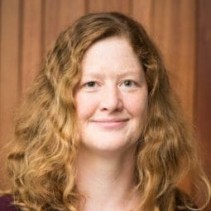 Professor Nicola Gaston
Principal Investigator
Biography
Professor Nicola Gaston is Co-Director of the MacDiarmid Institute and a Professor in the Department of Physics at The University of Auckland. Nicola Gaston was a Senior Lecturer in the School of Chemical and Physical Sciences at VUW.
She was previously a Principal Research Scientist at IRL, where she was based since returning to New Zealand in 2007 from the Max Planck Institute for the Physics of Complex Systems in Dresden. She has previously been the leader of Theme 2: Electronic and Optical Materials and a member of the Science Executive.
Research interests
Nicola is interested in understanding the development and variation of physical properties in materials as a function of size, from few atom clusters to large nanoparticles and the bulk.
Her current research is focused on understanding the relationship between electronic structure and properties such as catalytic activity, chemical reactivity, conductivity and thermodynamic stability, and how this relates to the underlying structure (size, shape, composition) of the material. She uses a range of ab initio quantum mechanical techniques to describe electronic structure and the way it depends on the chemical and physical environment.