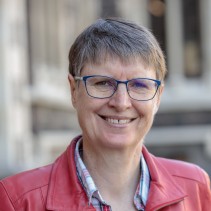 Professor Sally Brooker
Principal Investigator
Biography
Sally did her PhD with Dr Vickie McKee at the University of Canterbury, New Zealand (Vickie is now a Visiting Research Professor in Syddansk Universitet, Odense, Denmark and Adjunct Professor in Dublin City University, Ireland), and a postdoc with Professor George Sheldrick (of SHELX fame) at Göttingen University in Germany. She then returned to NZ to take up a lectureship at the University of Otago, the first position she applied for, where she is now a full professor and currently one of 7 inaugural Sesquicentennial Distinguished Professors (2020-2024). Sally is a Fellow of the Royal Society of Chemistry, Royal Society of New Zealand and New Zealand Institute of Chemistry and in 2018 was appointed a Member of the New Zealand Order of Merit for services to science, MNZM. Other recent awards include: Francis Lions Memorial Lecturer (Sydney University, 2018), RSNZ Hector Medal for outstanding work in chemical, physical or mathematical and information sciences (2017), 28th Inorganic Chemistry Award of the Royal Australian Chemical Institute (RACI), the Burrows Award (2017), and the University of Otago Distinguished Research Medal (2017), and the inaugural triennial Curtis Lecture (Victoria University Wellington, 2015). She loves supervising her large, multinational, highly productive and high impact research team (over 210 papers to date, h = 47 Web of Science, PhD 1989), Brookers Bunch.
Sally and her research group have prepared and characterised some key dinuclear spin crossover systems, including the first dicobalt complex to undergo simultaneous magnetic exchange and spin crossover, and the first structurally characterised dimetallic complex in which one metal ion is high spin whilst the other is low spin, and, in collaboration with Professor Jeff Tallon (RRI), the first triply switchable cobalt complex.
In collaboration with Professor Annie Powell (Karlsruhe) and Dr Rodolphe Clerac (Bordeaux), larger clusters of metal ions are also being targeted and magnetically characterised, consistent with another aim, the preparation of soluble single molecule/chain magnets (SMMs/SCMs): they reported the first SMMs to be designed and made in NZ. They are also taking steps towards immobilising switchable complexes on solid supports.
Sally is currently leading a German-NZ Green Hydrogen alliance, between team NZ green H2 and Helmholz Zentrum Hereon (HZH, Hamburg, Germany). This initiative aims to generate multiple research and industry links between Germany and NZ, to establish a physical presence in the form of a German-NZ green hydrogen research centre at the University of Otago, and to encourage development of a Southern Innovation campus and economic benefits to NZ.
Research interests
We remain very active in the design of new spin crossover systems, including new classes of ligands that support spin crossover active dinuclear helicates and tetranuclear cages, as these have potential as sensors.
In addition, over recent years we have increasingly focussed on testing our designer complexes as catalysts for the hydrogen evolution reaction (HER) and carbon dioxide reduction reaction (CO2RR).
Initially we focused on photocatalytic HER, working in collaboration with Professor Garry Hanan (Montreal) for testing, supported by a Catalyst Seed Grant. Based on the promising initial results obtained, we also collaborated with Professor Jadranka Travas-Sejdic (Auckland), successfully covalently immobilising some of our catalysts onto a solid support (via click onto PEDOT polymer immobilised on ITO).
More recently we have developed in house electrocatalytic HER testing capabilities at Otago.
We have also worked closely with Associate Professor Aaron Marshall (Canterbury) to develop an electrocatalytic CO2RR testing system in his lab, revising his existing heterogeneous testing systems to produce a system suitable for homogeneous CO2RR testing of molecular catalysts. The focus now is on testing more of our designer complexes using this system.