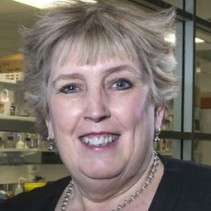 Distinguished Professor Dame Margaret Brimble
Associate Investigator
Biography
Margaret Brimble holds the Chair of Organic Chemistry and is Director of Medicinal Chemistry at The University of Auckland. She is the Vice-President of Organic and Biomolecular Chemistry Division (Division III) of International Union of Pure and Applied Chemistry (IUPAC), and an Associate Editor for Organic and Biomolecular Chemistry.
In 2012 Margaret was awarded the RSNZ Rutherford medal (NZ's top science medal), the Hector Medal (Chemical Sciences) and the McDiarmid medal (research for human benefit) and in 2008 the World Class NZ Award for Research, Science and Technology.
She was the 2007 L'Oreal-UNESCO Women in Science Laureate for Asia-Pacific in Materials Science and won the RSC Natural Product Chemistry Award (2010), the RACI Adrien Albert Award (2011) and the Novartis Chemistry Award. She has been conferred with two Queen's honours (MNZM 2004 and CNZM 2012) for her services to science.
Research interests
Current research focuses on the synthesis of functionalised peptides designed to adsorb onto the surface of new crystals in order to control their nucleation and growth.
Peptides are designed and synthesized to control the shape, size and surface functionality of metal nanoparticles – precious metals intended for catalytic application and iron, intended for magnetic particles useful in medical imaging and diagnostic devices. The synthesis of self assembling peptides that organize into hierarchical structures that mimic some of the beauty of biological systems is also under investigation.
The synthesis of highly organized glycopolymers, glycopeptides and lipopeptides is also being undertaken in order to investigate the unique physical and biological properties of these complex materials that contain biologically relevant moieties. The synthesis of antimicrobial proteins is of particular interest in order to study their mechanism of interaction with lipid bilayers and membranes.