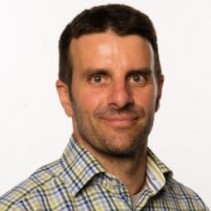 Associate Professor Volker Nock
Principal Investigator
Biography
Volker Nock is a Senior Lecturer in the Department of Electrical and Computer Engineering, and Co-Director and Principal Investigator of the Biomolecular Interactions Centre at the University of Canterbury, New Zealand.
He holds a Dipl-Ing degree in Microsystem Technology from the University of Freiburg, Germany, and a PhD degree in Electrical and Electronic Engineering from the University of Canterbury. From 2009 to 2012 he was a MacDiarmid Institute and Marsden Research Fellow. Since 2012 he has been an Associate Investigator of the MacDiarmid Institute and MedTech CoREs.
Research interests
Volker's research interests include micro- and nanofabrication, surface patterning and the application of microfluidics to Lab-on-a-Chip devices. He applies engineering technologies to study how biomolecules interact in plants and animals.
Knowledge gained as part of this helps to increase our understanding of how biological systems function when healthy or diseased, enabling us to develop new treatments for plant and animal diseases.